Business Development
[et_pb_section admin_label="section" fullwidth="on" specialty="off" inner_shadow="off" parallax="off" background_color="#2ea3f2″][et_pb_fullwidth_header admin_label="Fullwidth Header" title="BUSINESS DEVELOPMENT" background_layout="dark" text_orientation="left" header_fullscreen="off" header_scroll_down="off" parallax="off" parallax_method="off" content_orientation="center" image_orientation="center" custom_button_one="off" button_one_letter_spacing="0″ button_one_use_icon="default" button_one_icon_placement="right" button_one_on_hover="on" button_one_letter_spacing_hover="0″ custom_button_two="off" button_two_letter_spacing="0″ button_two_use_icon="default" button_two_icon_placement="right" button_two_on_hover="on" button_two_letter_spacing_hover="0″ background_color="#5b9bd5″] [/et_pb_fullwidth_header][/et_pb_section][et_pb_section admin_label="section"][et_pb_row admin_label="row"][et_pb_column type="4_4″][et_pb_text admin_label="Text" background_layout="light" text_orientation="left" use_border_color="off" border_color="#ffffff" border_style="solid"]
In many companies typical of today, business development and identifying long term strategic partners is no one's job yet. However, time and again it is seen that over the lifetime of any company, there will be a small number of transformative deals that pivot the company from startup to winner in the segment. Although every company theoretically could have transformational opportunities, few actually manage to identify them, let alone seize them. The winners are those who systematically networked into all of the surrounding companies that matter, so they can identify and seize the transformational opportunity when the time comes.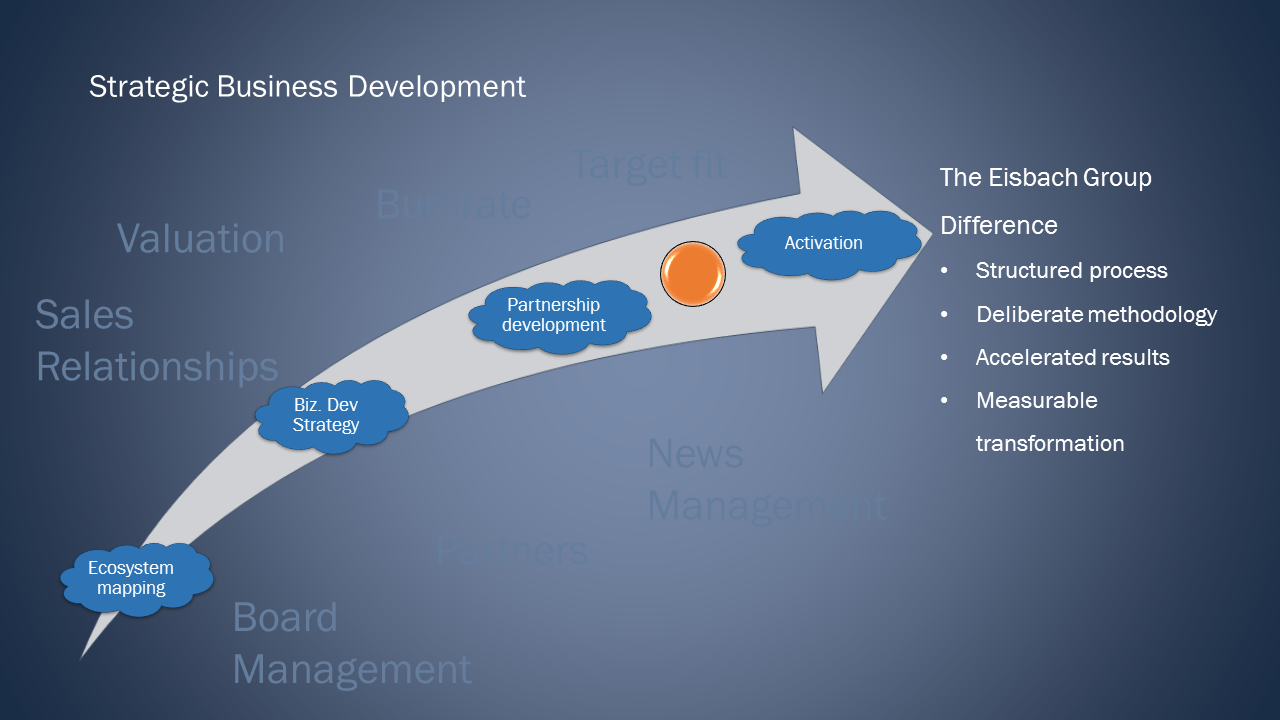 At Eisbach Group we focus on helping you identify and seize those very opportunities – the ones that will transform your company from being one player in a crowded market to a leader with many strategic options. Our core strategic capabilities are available to you in developing your business as you grow it to its full potential. We care about your success and will bring in the right combination of alliances, investments, and industry relations to help you win.
[/et_pb_text][/et_pb_column][/et_pb_row][/et_pb_section][et_pb_section admin_label="section" fullwidth="off" specialty="off" background_color="#5b9bd5″ inner_shadow="on" parallax="off" transparent_background="off" allow_player_pause="off" parallax_method="off" padding_mobile="off" make_fullwidth="off" use_custom_width="off" width_unit="on" make_equal="off" use_custom_gutter="off"][et_pb_row admin_label="row"][et_pb_column type="4_4″][et_pb_cta admin_label="Call To Action" button_url="http://eisbachgroup.com/contact/" button_text="Get in touch" use_background_color="off" background_color="#2ea3f2″ background_layout="dark" text_orientation="center" title="Connect With Us" url_new_window="off" use_border_color="off" border_color="#ffffff" border_style="solid" custom_button="off" button_letter_spacing="0″ button_use_icon="default" button_icon_placement="right" button_on_hover="on" button_letter_spacing_hover="0″ body_font_size="18″ custom_padding="25px||25px|" saved_tabs="all"]
Drop us a line – we look forward to connecting with you.
[/et_pb_cta][/et_pb_column][/et_pb_row][/et_pb_section]