Buy-Side M&A
[et_pb_section admin_label="section" fullwidth="on" specialty="off" inner_shadow="off" parallax="off" background_color="#2ea3f2″][et_pb_fullwidth_header admin_label="Fullwidth Header" title="BUY-SIDE M&A" background_layout="dark" text_orientation="left" header_fullscreen="off" header_scroll_down="off" parallax="off" parallax_method="off" content_orientation="center" image_orientation="center" custom_button_one="off" button_one_letter_spacing="0″ button_one_use_icon="default" button_one_icon_placement="right" button_one_on_hover="on" button_one_letter_spacing_hover="0″ custom_button_two="off" button_two_letter_spacing="0″ button_two_use_icon="default" button_two_icon_placement="right" button_two_on_hover="on" button_two_letter_spacing_hover="0″ background_color="#5b9bd5″] [/et_pb_fullwidth_header][/et_pb_section][et_pb_section admin_label="section"][et_pb_row admin_label="row"][et_pb_column type="4_4″][et_pb_text admin_label="Text" background_layout="light" text_orientation="left" use_border_color="off" border_color="#ffffff" border_style="solid"]
We help you drive the most efficient and effective buy-side M&A process without separate strategy, banking, and integration experts. We manage your M&A process from beginning to end and ensure your deal stays on track.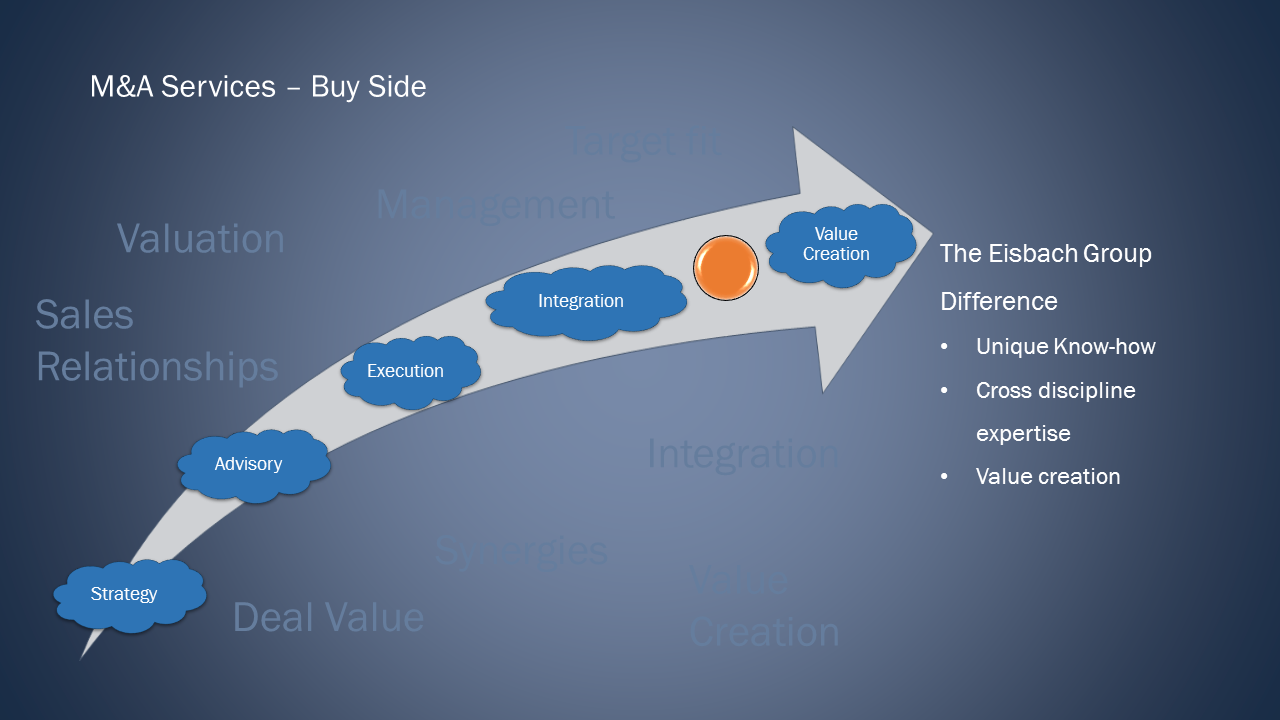 [/et_pb_text][et_pb_text admin_label="Text" background_layout="light" text_orientation="left" use_border_color="off" border_color="#ffffff" border_style="solid"]
Our approach solves a fundamental problem in M&A: while the M&A industry focuses on simply getting a deal done, we focus on making your deal successful. Most M&A teams/advisors perform their tasks in isolation without a holistic view of what it takes to make a deal successful.  Our M&A advisors have experience across the deal lifecycle, and understand what it takes to make a deal successful.  Our integrated approach and unique experience will ensure that you stay focused on making your deals successful.
Our unique approach also recognizes that the success of your M&A deal requires tracking key performance indicators (KPI) after the integration is "successfully completed".
To ensure your deal is successful, we recognize and will help you through the 5th stage of a M&A deal: Value Creation. This is where most deals are won or lost. Depending on your M&A strategy and objectives, we will identify the right KPIs and will provide analytics to ensure you deals stays on track. Our proactive methods ensure we can advise on corrective action when your deal is off track
[/et_pb_text][/et_pb_column][/et_pb_row][/et_pb_section][et_pb_section admin_label="section" fullwidth="off" specialty="off" background_color="#5b9bd5″ inner_shadow="on" parallax="off" transparent_background="off" allow_player_pause="off" parallax_method="off" padding_mobile="off" make_fullwidth="off" use_custom_width="off" width_unit="on" make_equal="off" use_custom_gutter="off"][et_pb_row admin_label="row"][et_pb_column type="4_4″][et_pb_cta admin_label="Call To Action" button_url="http://eisbachgroup.com/contact/" button_text="Get in touch" use_background_color="off" background_color="#2ea3f2″ background_layout="dark" text_orientation="center" title="Connect With Us" url_new_window="off" use_border_color="off" border_color="#ffffff" border_style="solid" custom_button="off" button_letter_spacing="0″ button_use_icon="default" button_icon_placement="right" button_on_hover="on" button_letter_spacing_hover="0″ body_font_size="18″ custom_padding="25px||25px|" saved_tabs="all"]
Drop us a line – we look forward to connecting with you.
[/et_pb_cta][/et_pb_column][/et_pb_row][/et_pb_section]