Corporate Development
[et_pb_section admin_label="section" fullwidth="on" specialty="off" inner_shadow="off" parallax="off" background_color="#2ea3f2″][et_pb_fullwidth_header admin_label="Fullwidth Header" title="VIRTUAL CORPORATE DEVELOPMENT SERVICES" background_layout="dark" text_orientation="left" header_fullscreen="off" header_scroll_down="off" parallax="off" parallax_method="off" content_orientation="center" image_orientation="center" custom_button_one="off" button_one_letter_spacing="0″ button_one_use_icon="default" button_one_icon_placement="right" button_one_on_hover="on" button_one_letter_spacing_hover="0″ custom_button_two="off" button_two_letter_spacing="0″ button_two_use_icon="default" button_two_icon_placement="right" button_two_on_hover="on" button_two_letter_spacing_hover="0″ background_color="#5b9bd5″] [/et_pb_fullwidth_header][/et_pb_section][et_pb_section admin_label="section"][et_pb_row admin_label="row"][et_pb_column type="4_4″][et_pb_text admin_label="Text" background_layout="light" text_orientation="left" use_border_color="off" border_color="#ffffff" border_style="solid"]
Eisbach Group brings in our diverse set of experiences to bear to make your corporate development function a success. Whether your needs are in strategy, innovation, business development or in the more typical M&A, our teams focus on helping you win. For our M&A clients, we begin with strategy but we don't stop at integration. We recognize the most important part of Corporate Development is "Value Creation". Our approach is optimized to ensure this is successful.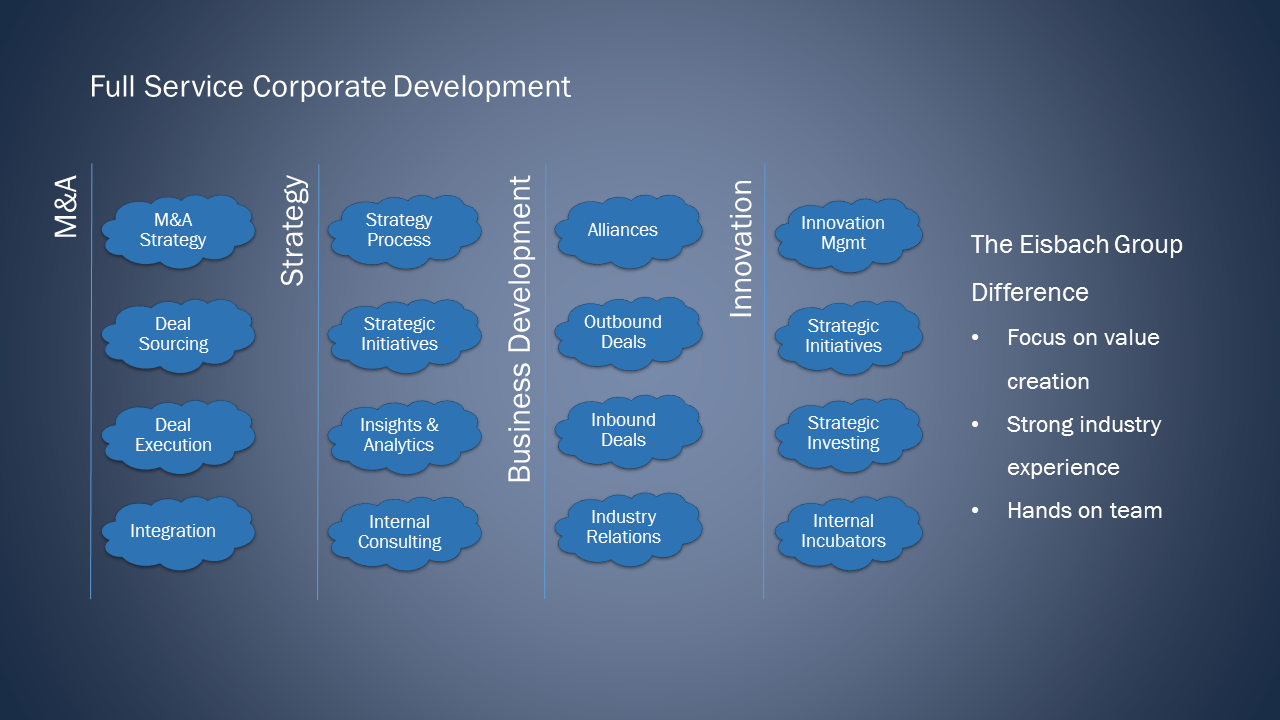 Eisbach Group's Virtual CorpDev solution is tailored to meet your needs. We develop an ongoing relationship with you and can handle all of your corporate development needs. We understand that there is a right time for strategy work, a right time for M&A work, a right time for business development, and a right time to do nothing. Our model and approach do not try to fit you into our expertise areas, instead, we help you with what you need. Our engagement model ensures that we fit into your operating budget and that you can comfortably engage us over the long-term.
[/et_pb_text][/et_pb_column][/et_pb_row][/et_pb_section][et_pb_section admin_label="section" fullwidth="off" specialty="off" background_color="#5b9bd5″ inner_shadow="on" parallax="off" transparent_background="off" allow_player_pause="off" parallax_method="off" padding_mobile="off" make_fullwidth="off" use_custom_width="off" width_unit="on" make_equal="off" use_custom_gutter="off"][et_pb_row admin_label="row"][et_pb_column type="4_4″][et_pb_cta admin_label="Call To Action" button_url="http://eisbachgroup.com/contact/" button_text="Get in touch" use_background_color="off" background_color="#2ea3f2″ background_layout="dark" text_orientation="center" title="Connect With Us" url_new_window="off" use_border_color="off" border_color="#ffffff" border_style="solid" custom_button="off" button_letter_spacing="0″ button_use_icon="default" button_icon_placement="right" button_on_hover="on" button_letter_spacing_hover="0″ body_font_size="18″ custom_padding="25px||25px|" saved_tabs="all"]
Drop us a line – we look forward to connecting with you.
[/et_pb_cta][/et_pb_column][/et_pb_row][/et_pb_section]