Strategy
[et_pb_section admin_label="section" fullwidth="on" specialty="off" inner_shadow="off" parallax="off" background_color="#2ea3f2″][et_pb_fullwidth_header admin_label="Fullwidth Header" title="STRATEGY" background_layout="dark" text_orientation="left" header_fullscreen="off" header_scroll_down="off" parallax="off" parallax_method="off" content_orientation="center" image_orientation="center" custom_button_one="off" button_one_letter_spacing="0″ button_one_use_icon="default" button_one_icon_placement="right" button_one_on_hover="on" button_one_letter_spacing_hover="0″ custom_button_two="off" button_two_letter_spacing="0″ button_two_use_icon="default" button_two_icon_placement="right" button_two_on_hover="on" button_two_letter_spacing_hover="0″ background_color="#5b9bd5″] [/et_pb_fullwidth_header][/et_pb_section][et_pb_section admin_label="section"][et_pb_row admin_label="row"][et_pb_column type="4_4″][et_pb_text admin_label="Text" background_layout="light" text_orientation="left" use_border_color="off" border_color="#ffffff" border_style="solid"]
For companies today, change is constant and uncertainty is certain. Our mission is to help clients not just navigate through these, but turn them into competitive advantage. In a world burdened by too much information we help executives weed out the unnecessary and gain the right insights to make better decisions.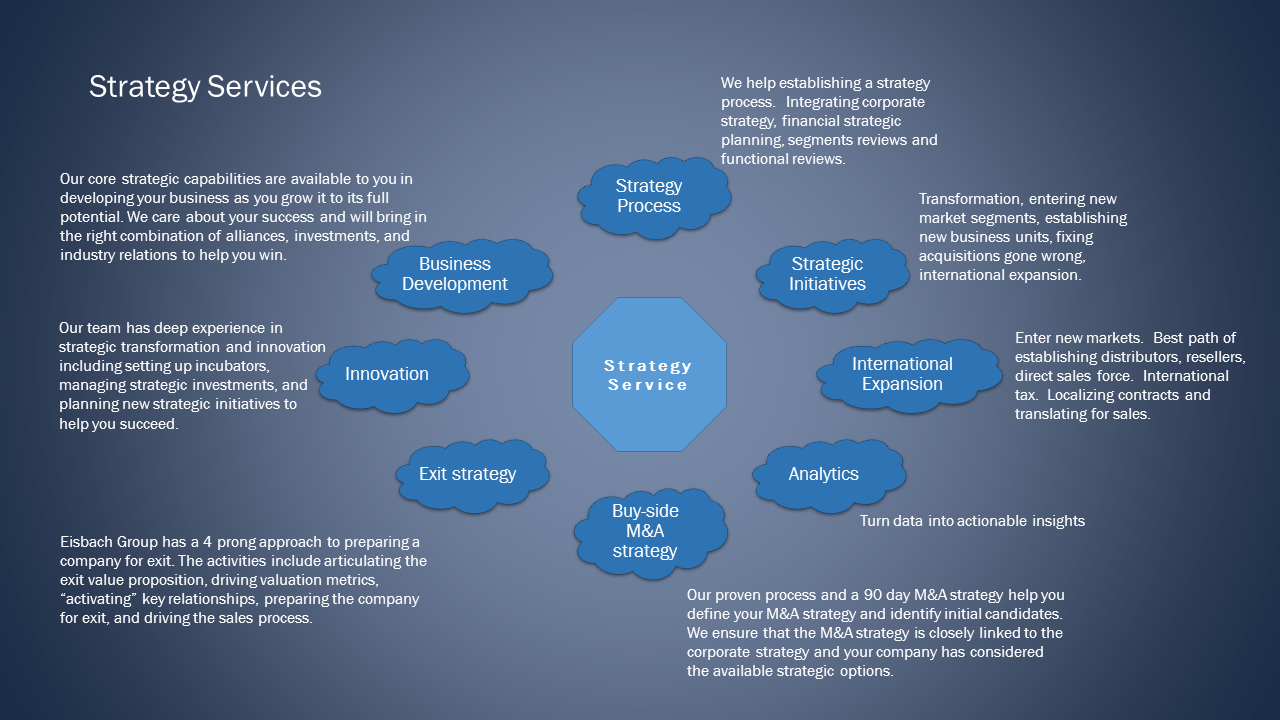 Our team having been entrepreneurs and executives themselves realize the complexities and challenges you face. We bring diverse proven strategy frameworks and take a collaborative approach to strategy development. We start with an assessment of the current situation and partner with our client's senior management team to identify the objectives, tactics to achieve them, and metrics to define success.
[/et_pb_text][/et_pb_column][/et_pb_row][/et_pb_section][et_pb_section admin_label="section" fullwidth="off" specialty="off" background_color="#5b9bd5″ inner_shadow="on" parallax="off" transparent_background="off" allow_player_pause="off" parallax_method="off" padding_mobile="off" make_fullwidth="off" use_custom_width="off" width_unit="on" make_equal="off" use_custom_gutter="off"][et_pb_row admin_label="row"][et_pb_column type="4_4″][et_pb_cta admin_label="Call To Action" button_url="http://eisbachgroup.com/contact/" button_text="Get in touch" use_background_color="off" background_color="#2ea3f2″ background_layout="dark" text_orientation="center" title="Connect With Us" url_new_window="off" use_border_color="off" border_color="#ffffff" border_style="solid" custom_button="off" button_letter_spacing="0″ button_use_icon="default" button_icon_placement="right" button_on_hover="on" button_letter_spacing_hover="0″ body_font_size="18″ custom_padding="25px||25px|" saved_tabs="all"]
Drop us a line – we look forward to connecting with you.
[/et_pb_cta][/et_pb_column][/et_pb_row][/et_pb_section]