As a startup CEO there are many levers you are constantly managing – one of the most important responsibilities you have is to build lasting business with the right fundamentals. Eisbach Group helps plan the right fundamentals to ensure your strategy is done right – so you can gain higher valuations and your company would be a great target for a lucrative acquisition by bigger potential partners.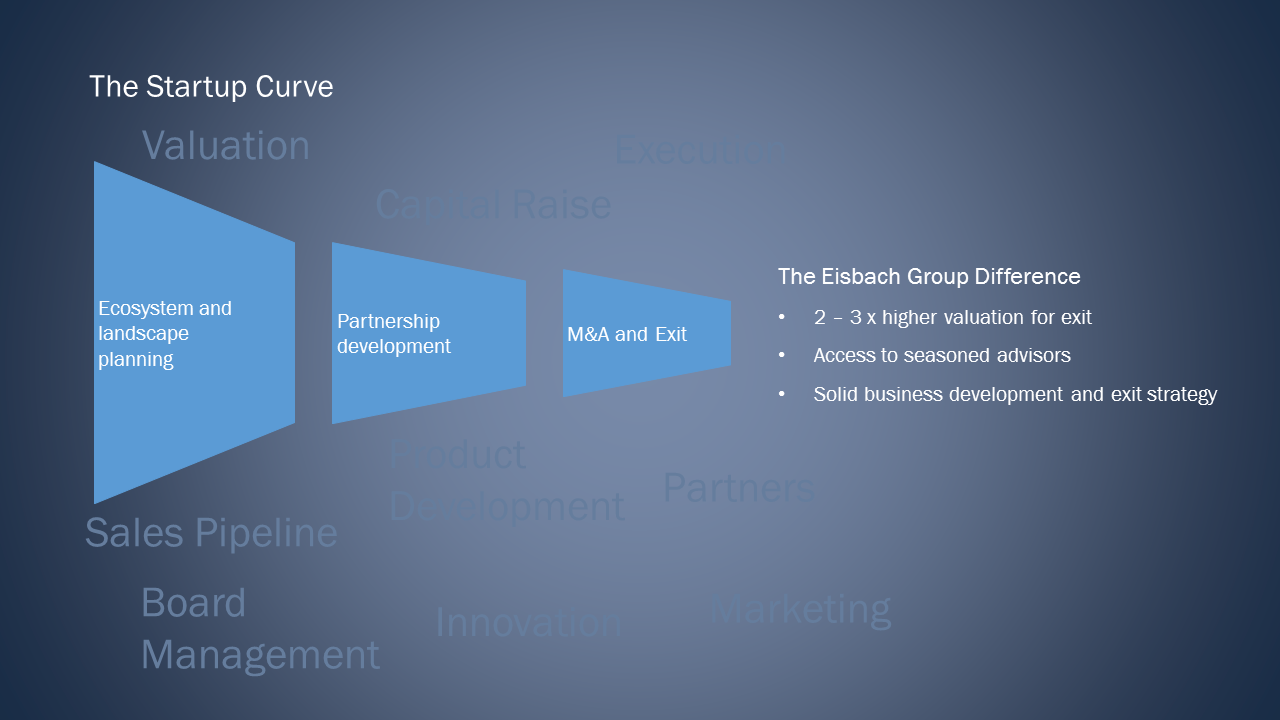 We offer you with comprehensive startup services, as your "other co-founder." We allow you to focus on your company's core competency while we fill in the gaps. We accelerate the startup learning process and reduce chances for common mistakes. Our experience as executives, legal counsel, and entrepreneurs enables us to advise on negotiations, financial planning, sales, marketing, and funding—everything a young startup will require. Our "Other Co-founder" philosophy helps you retain certain aspects of your management while you benefit from capable outside help on others.
Lean Startups – Lean startup methodology enables rapid product iterations informed by actual customers. Developing a first customer and 'earlyvangelist', early adopters and advocates, allows for faster product development cycles, and informs strategy and business model development at a lower cost. We guide you through the lean startup process, develop appropriate strategies, and steer implementation.
Sales – Identify initial customers and help drive the sales process. As you grow, we can help you hire the right sales force and establish sales processes to ensure you can scale your sales organization.
Fundraising – Startups need funding at various stages in their development. Angels, venture capitalists, banks, and other early-stage investors have specific expectations surrounding "the pitch". If you're heading into this environment for the first time, you'll need to be ready. We navigate clients through the funding process, develop strategic options, and make sure you don't miss important opportunities.
Exit Strategy – We offer a 4 prong approach to preparing a company for exit. The activities include articulating the exit value proposition, driving valuation metrics, "activating" key relationships, preparing the company for exit, and driving the sales process.
Business Development – Our core strategic capabilities are available to you in developing your business as you grow it to its full potential. We care about your success and will bring in the right combination of alliances, investments, and industry relations to help you win.
Growth and Scale – After the product has been built and the startup has initial customers, you need to begin thinking about how to "scale and grow" the business. To be successful, entrepreneurs need to learn entirely new skills. They must become strategists and managers.   We have been through this and can help you scale your business.
Buy-Side M&A – Many startups lack M&A expertise, but would like to make a small acquisition. We can handle the entire M&A process from beginning to end.   We can also help train people in your organization with the necessary M&A skills.